Michael Carman Consulting has been assisting organisations to define and improve results since 2000.
I have been engaged in a range of capacities by Broadspectrum, the NSW Department of Justice, the NSW Land & Housing Corporation, Lend Lease, Australia Council for the Arts, Sydney Trains, and NSW Trustee & Guardian.
Recent engagements include:
assisting an organisation define KPIs on the value of research
reviewing a local council's customer relationship management system, defining changes, and building support for these through prototyping
undertaking a cost-benefit analysis for a new maintenance contract for the NSW Land & Housing Corporation
evaluating the performance of a pilot for a major contractual change in the delivery of maintenance services for a NSW Government agency, and
mapping business processes for a NSW Government agency as part of a comprehensive change program
I assist clients through a range of means, including:
carrying out reviews, program evaluations and quality audits
providing change management such as developing change management plans, engaging stakeholders and structuring projects
analysing performance issues, developing KPIs, and undertaking process mapping and performance improvement projects, and
facilitating workshops and group decision making sessions, especially for strategy, stakeholder analysis, and action planning.
"Michael has an excellent understanding of political strategy and brought great strategic insights to our work. He kept us focussed and on track, and gave us excellent frameworks and tools for tackling complex issues. He was always well prepared, generous with his time and across the detail of his brief."
- Dr Cassandra Goldie, CEO, ACOSS
"Thanks Michael for your work facilitating the development of Key Performance Indicators for NSW Trustee & Guardian. You delivered an agreed list of KPIs in the context of significant organisational change, robust debate and all within 5 short weeks. The staff are signed up and I am very happy with the outcome."
- Imelda Dodds, CEO, NSW Trustee & Guardian
"We recently worked with Michael where he facilitated a workshop for our executive team and board members. He led the workshop and managed to keep us on track, which is an art when you have a room full of passionate people, with much to say. Also, importantly he challenged us to focus on the outcomes we wanted to achieve in the limited timeframe of the day. His enthusiastic approach to the day kept it fun whilst achieving the required results."
- Alison Covington, Founder & Managing Director, Good360 Australia
I bring rigour to my client work, applying quantitative techniques in ways that clients can use to inform their decisions. I always ensure that the results of these analyses are presented accessibly and succinctly.
For example...
I've used regression analysis to determine if an upward trend in customer satisfaction was statistically significant, or simply the result of chance
regression analysis was also used to evaluate if there were negative impacts from the deferral of specific types of maintenance
I utilised a t-test to establish whether a change in business operations was associated with a statistically significant difference in performance, and
I've used correlation analysis to analyse customer satisfaction to drill down to the key attributes and to understand how these related to each other.
This rigorous research and analysis when it's presented in a concise and highly visually-compelling format gives you what we term manganomics. A manganomic is the one-page output of this effort, such as that shown below (click on the image to see a larger pdf version).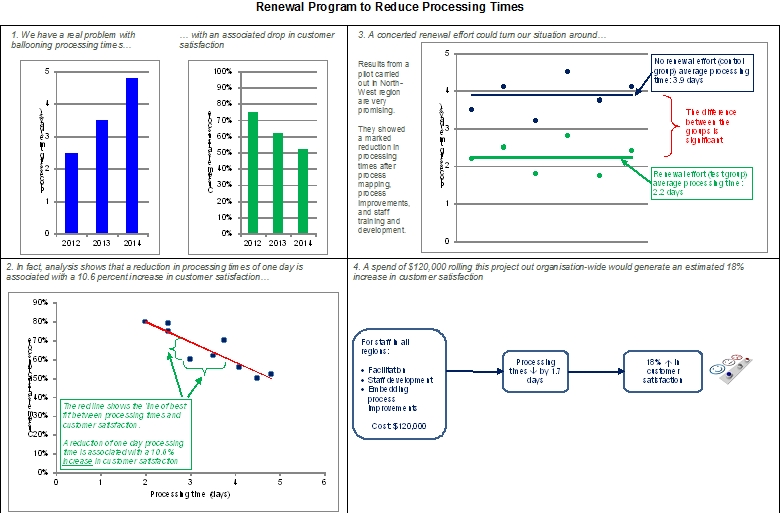 © Michael Carman 2010-2021