A COMPELLING BUSINESS CASE ... ON ONE PAGE
Business cases can be turgid affairs, filled with heavy-going text and reams of incomprehensible numbers. Although, on a moment's reflection, it doesn't really make sense why.
After all, it's the document that sets out the dimensions of a new initiative or purchase, crystallising its advantages and benefits, and providing a reference point as the project unfolds (assuming it goes ahead).
The business case clearly and concretely tells the story of how the initiative will lift performance and make people's lives easier and better.
And not only that – it can be a captivating story that people see as well as read.
So …I am on a mission to reclaim the business case and breathe life back into it, making it an instrument of effective management and a focal point for an organisation's goals. And doing this in a distinctively visual way.
Here's what a business case or funding bid could look like in the mocked-up example of a renewal effort for a service organisation, with all of the elements fit onto one page (into what I term a 'manganomic'):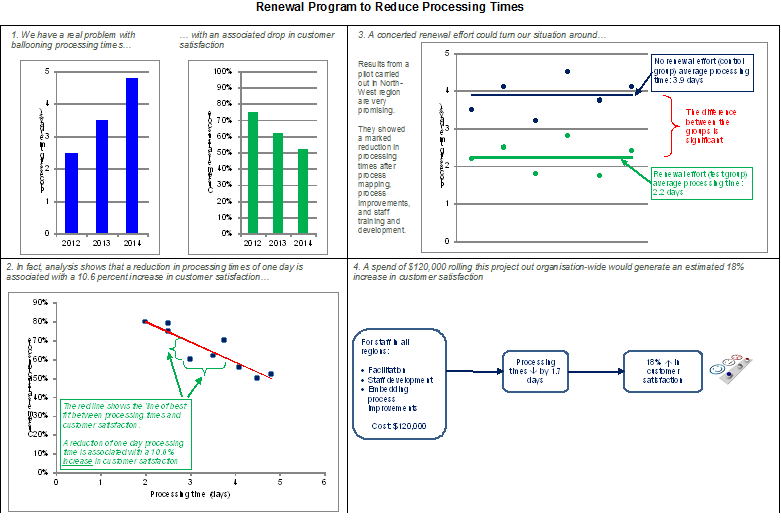 (Click on the image to open a larger pdf version).
Get the idea?
This doesn't only apply to business cases: you can use the same approach for funding applications, or information papers for your Executive or Board.
* * *
I can work with you to make your Executive paper or funding application analytically rigorous and visually compelling: contact me on 0414 383 374 and together we can breathe life back into the business case!
I look forward to hearing from you.
Kind regards,
Michael
Director I Michael Carman Consulting
PO Box 423, Croydon Park NSW 2133 M: 0414 383 374
© Michael Carman 2015