Power-Mapping in Practice: A Case Study Using the NDIS
We've seen the effectiveness of identifying stakeholders and plotting their influence and support or opposition for a given issue. But what if – as is often the case – there are multiple issues in play which have to be dealt with at once?
Mapping Stakeholders and Issues
A version of power mapping can be used in which stakeholders and issues are plotted, with the lines of influence between stakeholders and issues identified. This can help structure a problem, and assist with planning how to marshal support or neutralise opposition by seeing which stakeholders are arrayed around which issues. It's particularly useful in identifying weak spots and vulnerabilities, and therefore in working out ways to mitigate against them.
The technique – referred to (rather unimaginatively) as a stakeholder-issue interrelationship map – is described by John Bryson: it is easy to use and best done collaboratively in a workshop format. Simply brainstorm stakeholders and write each on a post-it note, and then brainstorm issues and write those on post-it notes (preferably in a different coloured pen or using different coloured post-its). Place the issues on a whiteboard or butcher's paper, and then array the stakeholders around them. Following this, draw arrows showing which stakeholders have an interest in which issues, noting that a stakeholder can have an interest in multiple issues. Then look for concentrations of interest, and constructive ways to reconfigure issues and stakeholders.
A Use-Case: The NDIS
As I mentioned last newsletter, I am creating 'use-cases' in influence to show how power mapping techniques such as these can be utilised. This use-case illustrates stakeholder-issue interrelationships for the National Disability Insurance Scheme (NDIS). The content is sourced from information in the public domain, and the assessments etc. are mine.
I identify four issues impacting the NDIS at present:
concerns with the speed and efficacy of the rollout, and general service provision
the $4.6 billion underspend on the NDIS and the Federal budget being brought into balance in that context
the range of reviews being conducted on the NDIS by the Joint Standing Committee and a former Finance Department Secretary, and
the extensive use of costly consultants – notably McKinsey, who secured $25 million in consultancy fees over the past two years without any competitive tenders, from an NDIA chair who was formerly a McKinsey partner. McKinsey gained other press coverage recently when it was revealed in a pitch to the Commonwealth Government that its senior partners charge $16,000 per day (before discounts).
Here's my NDIS stakeholder-issue interrelationship map: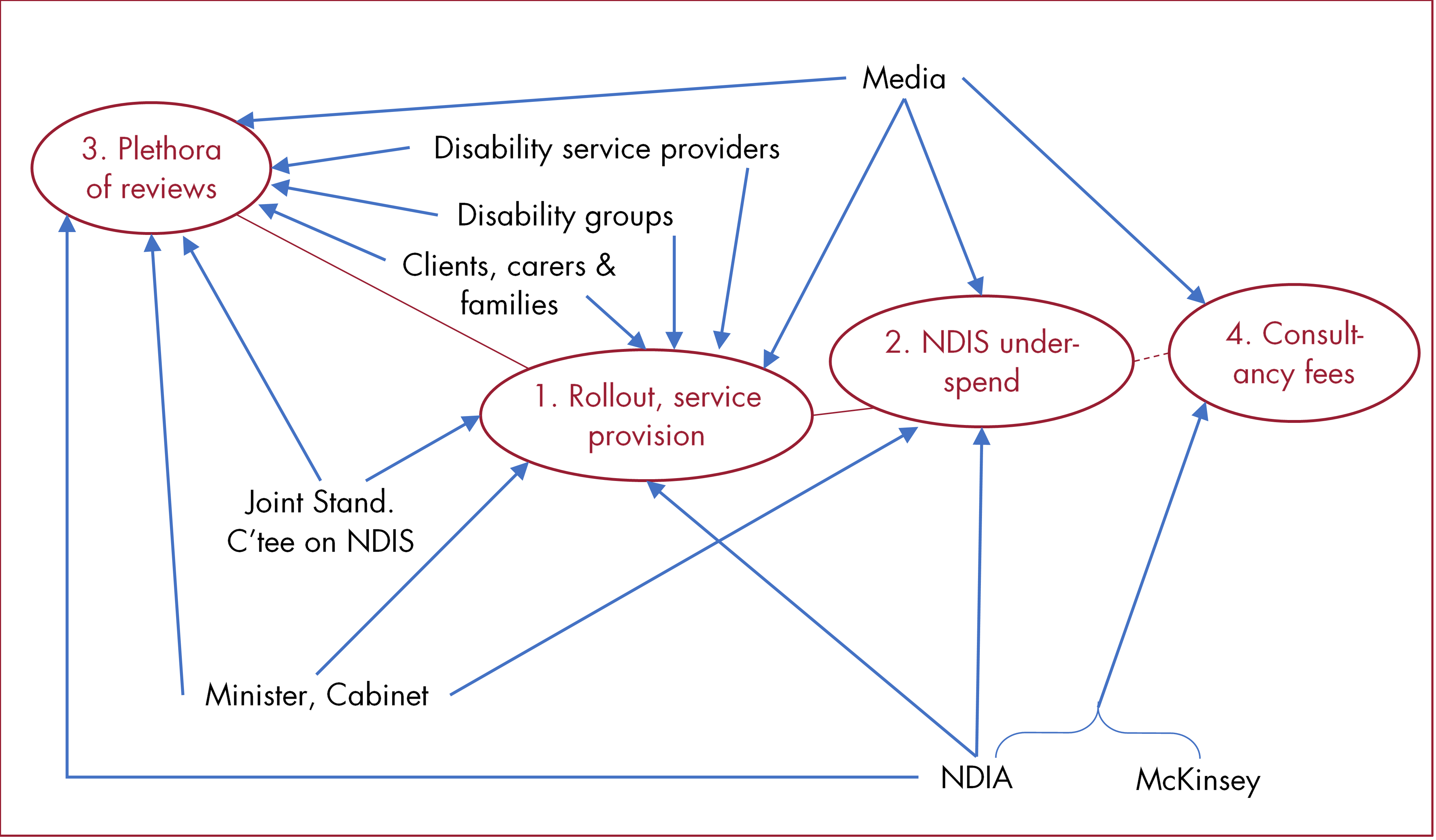 © Michael Carman 2019
The first thing to note is the concentration of stakeholder interest in service provision and the plethora of NDIS reviews. Seeing the issues coupled in this way suggests that the reviews may be a way of – at least temporarily – dealing with the rollout and service provision problems.
However, the plethora of reviews has itself become an issue, and therefore one more aspect of the NDIS which must be managed. Issues can only be 'parked' in a review for so long.
The map also enables links to be made between issues (as well as links between stakeholders and issues) and the map thereby exposes the link between service provision problems on one hand, and under-spending on the other. The fact that there is large-scale spending on consultants, coupled with underspending overall suggests that, in the absence of reductions in the use of consultants and greater transparency in their engagement, that consultants' work might usefully be directed to issues of rollout and service delivery (rather than, say, the $4.3 million spent on corporate planning in 2017, followed by another $1.1 million in 2018).
This would go some way to improving service provision and provide positive input for the reviews (as well as reducing the need for such reviews). It would also help stem any criticism that overpriced consultants might be used to address the problems created by the use of overpriced consultants. Or (tongue-in-cheek) calls for a review into the plethora of reviews.
Using the Use-Case to Gain Leverage
This short use-case gives you an idea how this powerful addition to your arsenal can be used to corral stakeholders and increase influence. It can be used for change programs (especially those aiming to change organisational culture or bed down mergers and acquisitions) or those organising cross-sector collaborations and campaigns.
As always, I am ready to assist you with such endeavours; here's what one client said:
"Michael has an excellent understanding of political strategy and brought great strategic insights to our work. He kept us focussed and on track, and gave us excellent frameworks and tools for tackling complex issues. He was always well prepared, generous with his time and across the detail of his brief."


- Dr Cassandra Goldie, CEO, ACOSS
I'd be delighted to do the same for you: I hope to hear from you soon.
Warm regards,
Michael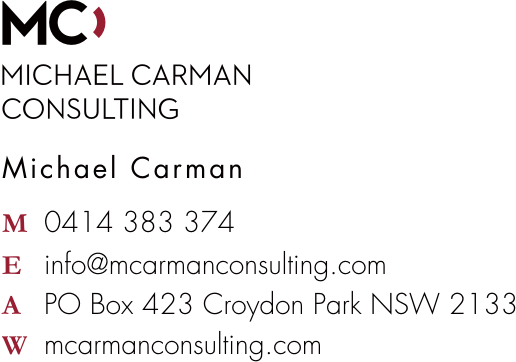 Reference:
John M. Bryson (2004) 'What To Do When Stakeholders Matter: Stakeholder Identification and Analysis Techniques' Public Management Review Vol. 6, Issue 1, pp.37-8.
© Michael Carman 2019