WORKING SMARTER IN TOUGH TIMES: A PUBLIC SECTOR EXAMPLE
Public sector managers have a tough time of it these days.
On the one hand, they're expected to do more with less: finances are tight and budgets are being cut. The Federal Government for example, has stated that if it is returned to office it will increase the efficiency dividend from 1.25 percent to 2.25 percent from July 2014, with budget cuts of $1.8 billion over three years.
On the other hand, community expectations of service levels are rising. Who's heard any commentary in recent years on a consensus for a reduction in the quality of public services?
Combine that with a trigger-happy media eager to publicise any government mistake and you have a recipe for a highly risk-averse culture, and chronically short-term behaviour that centres on chasing day-to-day ephemera.
In this inhospitable environment, executives can end up looking (and behaving) more like a mid-ranking clerk than a senior decision-maker.
What's an intelligent senior manager to do?
If there was ever a case for working smarter rather than harder, this is it.
A Focal Point for Performance
Here are my thoughts on what this might look like for key signature services, drawing on the discussion of local councils' management of development applications from last month.
I recommend plotting your and peer organisations' observed points of efficiency on one axis of a scatter diagram, and a customer-related aspect on the other. The latter could be customer satisfaction, reliability, or as in the graph below, timeliness.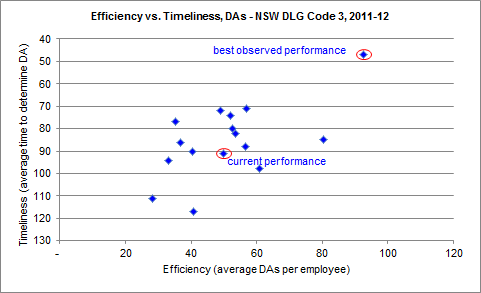 The best performer (the one in the top right position) is observed best practice.
Juxtaposing that with your current position effectively creates a focal point for performance. (And ideally an anchor for conversations with major stakeholders…).
Now, how to bridge the divide between current performance and observed best practice?
Plotting a Path to Higher Efficiency and Timeliness
Of course the first step is to map the 'as is' processes and determine root causes. As I tell participants in my learning programs, a great many solutions emerge organically out of a structured process of problem identification and root cause analysis. There would also be value in examining how the best observed organisation has accomplished their results.
Here's what the improvement pathway of a series of initiatives designed to reduce turnaround time and increase efficiency might look like. Gridlines and other councils' data points have been removed for greater clarity.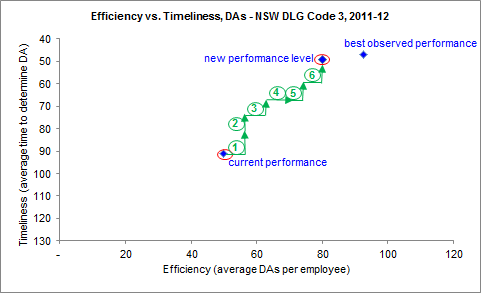 Initiative 1 might represent a streamlining of the process undertaken alongside the process mapping (picking low hanging fruit) entailing the reduction of non-value-adding activity, enhancing both efficiency and timeliness.
Initiative 2 may represent a redistribution of workload and resources, leading to a further improvement in timeliness.
Number 3 could be a triaging of applications according to their level of complexity and urgency: a further improvement in efficiency and timeliness.
Number 4 might be efficiency improvements arising from the adoption of practices used by the best observed performer.
Number 5 could be efficiency and timeliness improvements from the greater cross-functional cooperation achieved through collaborative problem diagnosis and solution identification.
And number 6 could be the efficiency and timeliness improvements arising from closer oversight and follow-up of the DA process.
Taken together, the new performance level achieved by the council equates to an extra 30 DAs processed per employee per year, and 42 days less on average to determine a DA (a 46 per cent reduction). Not bad.
What efficiency and timeliness improvements could your organisation accomplish using techniques like these? Contact me on phone 0414 383 374 or by return email to discuss.
Will these techniques provide a panacea for the tempestuous demands placed on public sector managers?
No. But they represent a powerful focal point for stakeholder and organisational conversations. They provide the potential for a run of 'good news stories' for a news-hungry media. And they anchor organisational energies in sensible, evidence-backed and performance-related efforts.
You could do a lot worse than that.

Kind regards,
Michael Carman
Director I Michael Carman Consulting
© Michael Carman 2013